OldWarrior
Following God with all my heart! :)
Sep 4, 2015 at 10:15pm
Last blog entries
Warhammer-Quest-A-Pedia
I started a wiki page for Warhammer Quest. I am using a nifty single-page document called TiddlyWiki. Visit TiddlyWiki.com to get a copy and instructions on how to use it. In my opinion, it is a really handy tool for all sorts of things. I have begun to use it as a planner for organizing my thoughts to write a novel.
The Warhammer Quest wiki I am calling Warhammer-Quest-A-Pedia, because I intend to use it as a quick reference to help remind some players of rules, interpretations and etc... Also, I plan to use it as a place to share my commentary on various aspects of the game. For instance, I have two sections on game strategy so far: Combat Strategies and Healing Strategies.
It is a work in progress. Also, it is fairly easy to save a copy to your pc. Just use the
Save As
option from your browser menu.
Here is the Warhammer-Quest-A-Pedia location (hosted at my Old Warrior's Stronghold site):
Warhammer-Quest-A-Pedia
I was getting lonely...
Yeah, it seems the Warhammer Quest and new Mutant Chronicles game as well have been forsaken by the gamers for the holiday season. So, I got to looking around at Boardgamegeek.com. There I found some places where my comments were... perhaps appropriate. I also promoted my website for custom Warhammer Quest things,
Old Warrior's Stronghold
I am really looking forward to receiving some custom stuff for the Mutant Chronicles: Siege of the Citadel board game that someone is likely to send me soon. That would be really swell, since my creative and adaptive thoughts just keep simmering and stirring, awaiting my slower typing and technical pc skills to catch up... ;)
Anyway, if anyone happens to read this Old Warrior's Online Journal, have a Happy New Year! :)
"Tackle" Indeed!
Yes, that was what I said in my last Old Warrior's Online Journal entry (OWOJ?... hmmm... no one would even have the slightest idea if I used the initials... LOL) . I said
tackle
. If you don't know what I am talking about, then you didn't read my last entry, OR you have already forgotten (not a good sign whichever way we look at it -- the forgetting part I mean. ;) ).
Anyway, the new project is going splendidly in my opinion.
Here are some samples from the beloved Old Warrior's Mutant Chronicles (online version of the "Seige of the Citadel" board game):
I added background color to the corporation trays' Doomtrooper avatars...
Here is the one I did the most seamlessly I think.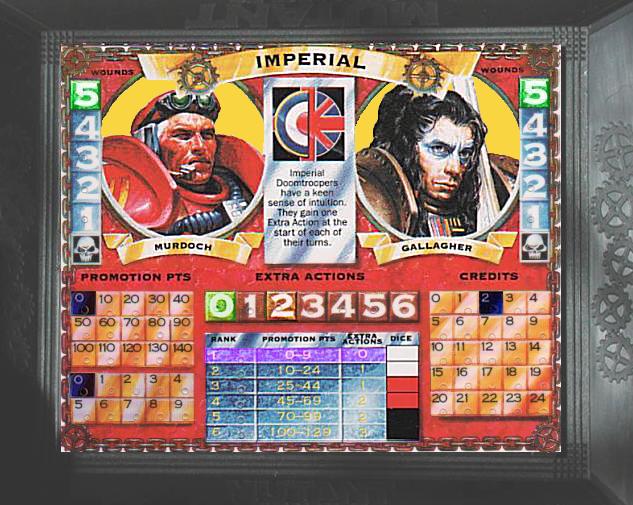 To see all five corporation trays, just click on the above example. :)
To see the Turn Text for the new game, which will show most of the action (AND the maps!), follow this link:
Besiege the Citadel
To see the special html pages I created to simulate the table-top experience for each player, click on the corporation and/or Dark Legion emblems below.

_

_

_

_

_

Bauhaus ~ ~ Capitol ~ ~ Cybertronic ~ ~ Imperial ~ ~ Mishima * * Dark Legion
Much work has been done so far; and, we shall soon be ready to begin the very first mission*,
Trial by Fire
(a training mission for some of the more basic game-play rules.
*Ahem! I still need one or two players, depending upon whether a certain potential player gives me word one way or the other.
Please visit my recruiting topic,
Old Warrior's Mutant Chronicles (Volunteer to Play?)
, if interesting in playing this type of game online. Oh, and be sure to read my Mutant Chronicles message board rules before volunteering. ;)
Welcome and Message Board Rules (Disclaimer Included)
Old Warrior's Mutant Chronicle's
Yes, I think I will try to tackle a new project: Old Warrior's Mutant Chronicles (an online, message board version of the old board game, Mutant Chronicles: Seige of the Citadel.
Here is the topic link in my message board where I plan to recruit players for ths game.
Old Warrior's Mutant Chronicles
Animated Map Images
An experimental feature in the newest Warhammer Quest game in my message board is the animated map image.
Here is an animation of the first turn of the game, Dungeonus Classicus: Initiation.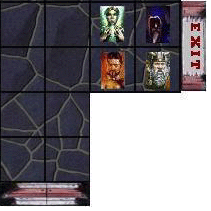 I want to express thanks to PaulusWHQ for creating the animated image(s) from my still images.
Miscellaneous info
User since
Apr 1, 2006 at 8:24pm
Location
USA, Western hemisphere, earth
Interests
writing, reading, praying, Bible study, creating new things, fiddling with Runboard message boards
Last posts
Re: Gigantic Spider Question, Dec 8, 2022 at 4:15pm
Re: Gigantic Spider Question, Nov 17, 2022 at 4:45pm
Don't Tell Me Jesus Did NOT Mean Exactly What He Said!, Oct 14, 2022 at 2:34am
Re: Orc Archers in Hand to Hand Combat, Sep 10, 2021 at 10:49am
Re: Priest of Ranald Fan-made Warrior, Apr 18, 2021 at 0:12am
Re: Test Post, Mar 23, 2021 at 1:45am
Re: Test Post, Mar 23, 2021 at 1:43am
Re: Bible Notes, Mar 22, 2021 at 1:04am
Re: Test Post, Mar 22, 2021 at 1:00am